Looking gorgeous and elegant at a party is very important. Your overall look depicts your personality and your first impression should be a good one. Your outfit determines a lot and contributes to how people perceive you. It is easy to choose the perfect party wear because you need to consider the type of party, the mood, the ambiance and matching your attire with the right accessories as well. Everything together helps to create the right impression.
Bollywood sarees make amazing party wear as they can make you look elegant, stylish, sexy, almost depicting your every mood. Sarees have been a popular party wear for ages because of the large variety and uniqueness of designs. Depending on the type of party and your own preferences, you can choose any of the latest women sarees for going to a party. From traditional to trendy, any saree can become a party wear if you choose the right one.
Among different colours that suit a party mood, white is one which stands out if we talk about elegance and grace. Many people might think that white is not the colour for evening or night parties, but they have been proven wrong. White party wear Bollywood sarees can surely be an eye-turner ad the wearer can dazzle with style and elegance. From lacy white saree to sheer white drapes, white is the colour that can make you divine at a party. And of course, if you have a matching designer blouse, then you are all set to rock.
Here are 5 Bollywood sarees with a white base worn by our B-town divas with amazing designer blouses.
Off-white Cotton Saree With Embroidered Blouse: Vidya Balan looked divine in this Sabyasachi masterpiece. An off-white cotton saree with a taupe at the border perfectly matched with a dark brown full sleeve blouse with gold appliqué work on the shoulder and back.
Nude Off-White And Dhoti Saree: Sonam Kapoor is one of the fashion icons of Bollywood. She looked trendy in the off-white dhoti saree with a black border. The sleeveless black blouse matched aptly.
White Net party Wear Saree: Shilpa Shetty can pull off almost anything. In this simple white net saree with pink floral design, she looked chic and beautiful, which she wore with a  short sleeve white blouse.
Lace saree and a stylish embellished blouse: Sonam Kapoor made a style statement with this Anamika Khanna creation at the Cannes Film Festival. The white lace saree was beautifully matched with a full sleeve embellished designer blouse. It was truly a new and unique combination.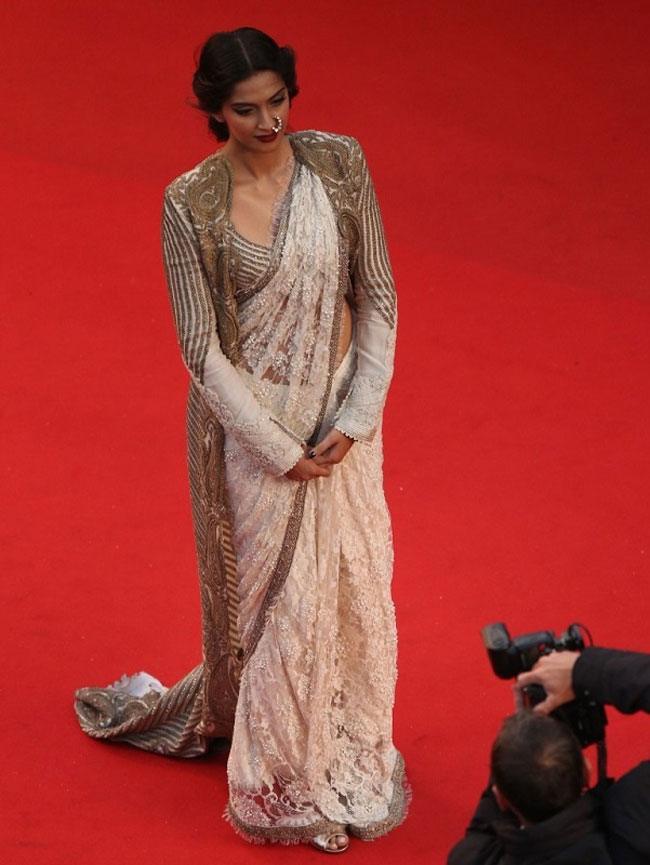 Thread and pearl embroidered saree with off-shoulder blouse: Kirti Sanon looked magical in this hand-crafted thread embroidered saree with pearl embellishments. The off-should white blouse and her accessories matched perfectly.
This time when you go to a party, don't hesitate to choose an unconventional colour or design if you like it. Pair it with a designer blouse and nice accessories and you will be all set to make a mark in a party.
Check out latest women sarees on popular apparel portals online for the choicest collections.